Canon Canon Zoemini S Pocket Printer
CANON ZOEMINI S POCKET PRINTER
CANON ZOEMINI S POCKET PRINTER

Get an instant printout for immediate memory-making. Take the perfect selfie with a built-in mirror and ring-light, connect with the Canon Mini Print app and get the ultimate group photo with its remote shutter shooting - all with the Canon Zoemini S.

CANON MINI PRINT APP

Connect your Canon Zoemini printer to your mobile phone or tablet via the Canon Mini Print app, which is free to download from the App Store and Google Play***. Take your own photos or download direct from Facebook, Instagram, Google Photos, Dropbox or iCloud. You can then add filters, AR, distortions, drawings or text for a totally customised image.

CANON AIMS TO ACHIEVE NET-ZERO CO2 EMISSIONS FROM ITS BUSINESS ACTIVITIES BY 2050

We will achieve this by delivering an average improvement of 3% per year in the lifecycle CO2 emissions improvement index per product. Which if sustained would mean roughly a 50% reduction from 2008 levels by the year 2030. We recognise this to be in line with the level of reduction called for by the Paris Agreement.

We will continue to undertake target reviews from a long-term perspective as a way of checking our contribution to the realisation of a low-carbon society.
PRINT RESOLUTION

314 x 600 dpi

BATTERY LIFE

Average 25 photo prints

CONNECTIVITY

Bluetooth 4.0

SUPPORTED MEDIA TYPE

ZINKTM photo paper

AUTOMATIC PAPER SENSOR

Yes

MAXIMUM PAPER SIZE

2.0" x 3.0"

OPERATING HUMIDITY (RH)

<70%RH

OPERATING TEMPERTURE (℃)

5 - 40°C (41 - 104°F)

SMARTPHONE-READY

iOS and Android

REMOTE SHUTTER

With Canon Mini Print app

ZINKTM

Printing Technology

BLUETOOTH®

Bluetooth® connectivity

CHIC AND LIGHTWEIGHT

188 Gram Model in -Matt Black -Pearl White -Rose Gold

BOTTOM LED (CHARGING)

- Red : Charging
- Green: Charging complete

PHOTO ASPECT RATIO

- 3:2 (2" x 3")
- 1:1 (2" x 2")

ZINK PHOTO PAPER INFORMATION

- Storage Environment : Temperature: 0 - 25°C, Humidity: 40-55% RH
- ZINKTM Photo Paper : -ZINK photo paper pouch (10 sheets) -2" x 3" photo paper / Peel-and-sticky back

CHARGING SPEED

Approximately 120 minutes (From 0% to fully charged)

COOL REFLECTIONS: MIRROR AND RING-LIGHT FOR SHAREWORTHY SELFIES

Bring on your best shots with this pocket-sized 8-megapixel camera printer. With a ring-light for sure-fire selfies, remote shutter shooting from your smartphone via the Canon Mini Print app, and instant sticky-backed prints, it's the go-to gadget for photo aficionados.

PRINT SPEED

Approximately 50 second (Motor Start & Stop, at room temperature 25°C )

RECOMMEND OPERATING, CHARGING & STORAGE TEMPERTURE (℃)

15 - 32°C (59 - 90°F)

RECOMMEND OPERATING HUMIDITY (RH)

40-55% RH

BODY SIZE

- Height : 21.5mm
- Width : 80.3 mm
- Length : 121 mm

COMPATIBLE OPERATING SYSTEMS & AP

- Mobile App : Canon Mini Print app
- Compatible OS (for Mobile APP) : iOS 9.0 or above & Android 4.4 or above
- Compatible OS (for Computer) : Windows 7 / 8 / 8.1 / 10, Mac OSX 10.10-10.14


BATTERY

Built-in Rechargeable lithium polymer Battery, 700mAh

PRINTER CONNECTION

Bluetooth - using the Canon "Mini Print" app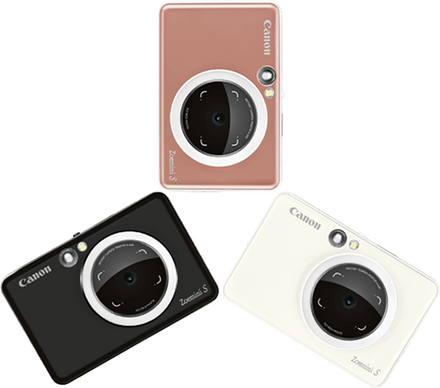 COLOURS

- White
- Black
- Rose Gold

DISCOVER CANON ZOEMINI S

Turn your memories into cute keepsakes with the chic Canon Zoemini S's built-in camera with selfie mirror, ring-light and remote shutter

CONTROL PANEL

- Power Button
- Shutter Button
- Reprint Button
- Aspect Ratio Button ( 2 x 2 / 2 x 3 )
- Slide Switch (Flash Off / Auto Flash / Fill Light)

PAPER CAPACITY

Up to 10 sheets of Canon ZINKTM photo paper + 1 SMART SHEETTM

MEMORY CARD COMPATIBLE

- Yes
- MicroSD Card, up to 256GB

CAMERA

- Single Still Photo Resolution : 8MP
- Single Still Photo Format : JPG
- Flash Light : Yes
- Fill Light : Yes (8 LEDs)
- Focusing Range : Auto (Range: 30cm~∞ )
- Zoom : Fixed
- Sensitivity : Auto (ISO Range: 100 - 1600)
- White balance & Exposure Adjustment : Auto

SPEAKER

- Power On
- Power Off
- Camera Focus Lock
- Camera Shutter
- MicroSD Card Insert / Eject
- MicroSD Card Error
- Reprint Error
- Camera Error (fail to take photo)

TOP LED

-White On: Device is On and Standby -White Flashing: Processing Smartsheet / Preparing Printing / Firmware Updating -Red On: Device is too High Temperture -Red Flashing: Cover Opened / Printer Error / No Paper / Paper Jam -Red/White Looping: Low Battery, Very Low Battery -Blue On -> White Flashing: Device is Booting -Blue Flashing: Smartsheet Error -Cyan On: Device is too Low Temperture -Cyan Flashing: Printer Head Cooling -Magenta On: Mass Storage Mode -Magenta Flashing: SD Card Error -Yellow/Magenta/Cyan/White Looping: Printer is Printing

NFC

- IOS (Need 3rd party NFC reader, only available to iPhone 7 or later)
- Android (workable with models with NFC support and preloaded NFC reader)