Santos Juice extractor "Miracle Edition" 68
JUICE EXTRACTOR "MIRACLE EDITION" 68
JUICE EXTRACTOR "MIRACLE EDITION" 68

This new generation juice extractor ''Miracle Edition'' 68 is the result of Santos 60 years worldwide experience. Powerful, robust and easy to clean, it is the must-have appliance to juice bars.
The Miracle edition offers a high efficiency and is adapted to intensive use.

- Perfect filtration for a high quality juice : large basket with very fine sieve (0.5 mm / 0.02'').
- Full stainless steel food-zone (no aluminum).
- Wide feeding chute (79,5 mm diameter): no need to cut fruits and vegetables.
- New generation patented Ezy-clean™ system II: removable bowl, basket and cover (no tool needed). Extremely sturdy: shifter all in metal.
- Spout height: 228 mm (9"), to make juice in a glass or in a jug.
- Exceptional output: 140 l/h.
Built to last, it has obtained the Longtime Label, attesting its robustness and durability!
100% manufactured in France since 1954.
NET WEIGHT

26 kg (57,3 lbs)
PACKED WEIGHT

28,8 kg (63,5 lbs)
PRODUCTION

Made In France
ACOUSTIC SAFETY

Silent asynchronous motor
THERMAL SAFETY

Motor protected by internal thermal detector and overload protector
MECANICAL SAFETY

A friction brake immediately stops the basket when opening the handle
SPEED

- 3000 rpm (50 Hz)
- 3600 rpm (60 Hz)
SHIPPING BOX

Width : 370 mm (14,6'')
Depth : 660 mm (26'')
Height : 590 mm (23,2'')
HYGIENE

All removable parts can be put in a dishwasher or easily cleaned with hot soapy water

HARMONIZED EUROPEAN STANDARDS

- En Iso 12100: 2010
- En 60204-1 + A1: 2009
- En 60335-2-64: 2015 Commercial Electric Kitchen Machines
- En 12547: 2014 Juice Extractors
- Ce Marking, Ul (Usa) And Cul (Canada), Nsf (Usa), Kc (Korea)

ELECTRICAL SAFETY

- All mechanical parts are ground connected
- Appliances are 100% tested after assembly
NORMES

- Versions 68 (220-240V - 50/60Hz) : CE, NSF, KC pending, RoHS.
- Versions 68V1 (100-120V - 50/60Hz) : CE, UL pe, NSF, RoHS.

WARRANTY

- Product: 2-year Warranty
- Motor: 5-year
WORLDWIDE LEADER IN COMMERCIAL JUICERS

Santos has a 35 years' experience in manufacturing commercial juicers and developing exclusive patented systems to provide the best reliability and e¨iciency
MOTOR SINGLE PH

100 - 120 V - 50/60 Hz - 1300 W 220 - 240 V - 50/60 Hz - 1300 W
IN ACCORDANCE WITH THE FOLLOWING REGULATIONS

- Machinery directive 2006/42/EC
- Electromagnetic compatibility 2014/30/EU
- ''Low voltage'' directive 2014/35/EU
- RoHS directive 2011/65/EU
- Regulation 1935/2004/EC (contact with food)
- Regulation 10/2011/EU (Plastic in contact with food)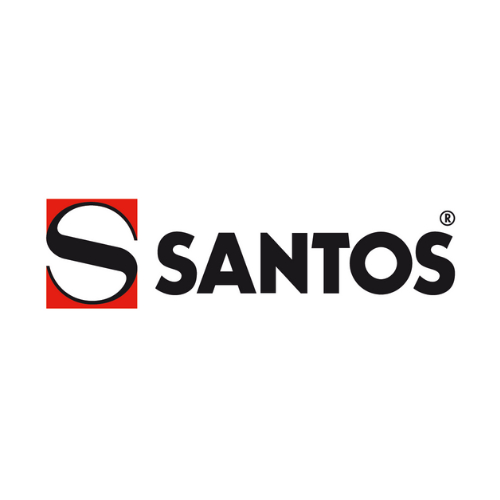 T +33 472 373529 F +33 478 265821
Santos
140 Avenue Roger Salengro, 69120 Vaulx-en-Velin, France