Santos Barista Edition 01bar - Coffee Grinder
BARISTA EDITION 01BAR - COFFEE GRINDER
BARISTA EDITION 01BAR - COFFEE GRINDER

Official coffee grinder of the French Barista Championships 2019 and 2021 (Specialty Coffee Association). This special edition dedicated to baristas is based on the traditional coffee grinder from 1954. A unique design and high quality features for a premium coffee.
It can grind small amounts of coffee thanks to its 1 kg hopper, ideal for specialty coffee. It offers a precise micrometric setting for all types of filtrations: espresso, filter, French press…
AVERAGE OUTPUT

14 Kg / hour
HORIZONTAL AXIS

Horizontal axis feeding screw.
PRODUCTION

100% Made In France
POWERFUL

Commercial Reliable Induction Motor.
WEIGHT

- Net : 14.5 kg (31 lbs)
- Packed : 26,4 kg (58 lbs)
SPEED

- 1500 rpm (50 Hz)
- 1800 rpm (60 Hz)
SHIPPING BOX

- Width : 300 mm (12")
- Depth : 410 mm (16")
- Height : 575 mm (23")
ACOUSTIC SAFETY

Very silent and powerful asynchronous motor
THERMAL SAFETY

Motor protected by internal thermal detector
WARRANTY

- Product: 2-year Warranty
- Motor: 5-year
MOTOR SINGLE PHASE

- 100 - 120 V - 50/60 Hz - 650 W
- 220 - 240 V - 50/60 Hz - 600 W
EXCLUSIVE SANTOS Ø 63,5 MM GRINDING DISCS

Santos manufactures its own grinding discs since 1954 to ensure a high quality grinding
IN ACCORDANCE WITH THE FOLLOWING REGULATIONS

- Machinery directive 2006 / 42 / EC
= Electromagnetic compatibility 2014 / 30 / EU
- ''Low voltage'' directive 2014 / 35 / EU
- RoHS directive 2011 / 65 / EU
- Regulation 1935 / 2004 / EC (contact with food)
- Regulation 10 / 2011 / EU (plastic in contact with food)
DIRECT DISPENSING

Direct dispensing of coffee and ergonomic coffee grinder spout
MICROMETRIC ADJUSTMENT

Precise micrometric scale to adjust the grinding size: espresso, filter,French press…
HYGIENE

All removable parts can be put in a dishwasher or easlily cleaned with hot soapy water
HARMONIZED EUROPEAN STANDARDS

- EN ISO 12100: 2010
- EN 60204-1: 2018
- EN 60335-2-64: 2004 Commercial electric kitchen machines
- CE Marking
PRECISION AND QUALITY

- Exclusive santos ø 63,5 mm grinding discs Santos manufactures its own grinding discs since 1954 to ensure a high-quality grinding, Homogeneous and constant grinding
- Direct dispensing of coffee Ergonomic coffee grinder spout
- Micrometric adjustment Precise micrometric scale to adjust the grinding size: espresso, filter, French press
SANTOS KNOW-HOW

- Since 1954, Santos manufactures its own grinding discs for a high quality grinding
- Specialist of silent grinders
- Dose regularity
- Not burning coffee while grinding
- Anti-static system
- Easy adjustment and maintenance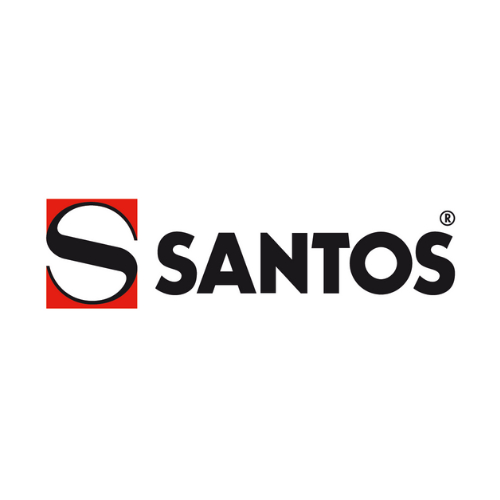 T +33 472 373529 F +33 478 265821
Santos
140 Avenue Roger Salengro, 69120 Vaulx-en-Velin, France