Olimpiasplendid Sherpa Shw S2 Heat Pump
SHERPA SHW S2 HEAT PUMP

Olimpia Splendid's heat pump water heater was created as a more efficient and sustainable alternative to the traditional water heater (gas or electric) for the production of DHW in residential and other applications.
Available in two different sizes, it ranks among the solutions that best optimise energy consumption, not only for its intrinsic technology (heat pump), but also for its performance at the highest level in its category. The compact design, with its slender shape, also reduces the overall surface area to just 630 mm, making it easier to place inside the technical room.
CYCLE

Weekly Sanitisation Cycle
MATERIAL

Enamelled Steel Tank
EXTERNAL SWITCH

ON-OFF contact to start the unit via an external switch.
TOP COVER

External plastic cladding. Soundproof plastic top cover
HIGH-EFFICIENCY

High-efficiency compressor with R134a refrigerant**.
TEMPERATURE

Working range with heat pump and air temperature from -10C° to 43C°.
CONDENSER

Condenser wound outside the boiler free from deposits and gas-water contamination.
DURABILITY

Anti-corrosion magnesium anode to ensure tank durability.

OPTION TO MANAGE

Option to manage the domestic hot water recirculation or solar heating integration. Valid only for model 260S
ELECTRONIC EXPANSION

Electronic expansion valve for a timely check.
ENVEROMENT CONDITIONS

Electric heating element available in the unit as back-up which ensures hot water at a constant temperature even in extreme winter or summer conditions.
RIGID POLYURETHANE

Rigid polyurethane foam (PU) thermal insulation, thickness 50mm.
AVAILABLE IN TWO VERSIONS

- Standard model with heat pump, electric heating element and 202-litre tank (Sherpa SHW S2 200); model with coil for solar panels or other energy sources, electric heating element and 251-litre tank (Sherpa SHW S2 260S) .
- COP>2,6* DHW at 65°C (75°C with electric heating element)
DIAGRAM
1. Heat Pump 2. Control Panel 3. External PVC Jacket 4. Enameled storage tank 5. Upper Storage tankprobe "T3" 6. Lower Storage tanktop "T2" 7. Refrigerant reharge needles 8. Ambient air regulated 9. Electronically regulated expenion valve. 10. High-efficiency finned expansion 11. Air inlet (160mm) 12. Air Outlet (160mm) 13. Hermetically-Sealed rotary compressor 14. Compressor's accumulator 15. (1.5 kw - 230w ) El. heater 16. Condenser intel line - Liquid 17. Condenser Outlet line - Hot Gas 18. Replaceable magnesium anode 19. Hot water outlet connection (G1") 20. Recirculation Fitting (G3/4") 21. Evaporator's Distributor 22. Condensates Drain (G 3/4") 23. Solar Coil (G1") 24. Cold water intel connection (G1") 25. 50mm polyurethene insulation 26. High Pressure switch - automatic reset 27. Safety thermostat, manual reset 28. Controller box 29. Probe for solar coil thermosensor 30. Low Pressure switch-automatic 31. 4-way defrusting valve 32. Upper decotative Panel 33. Back decorative Panel 34. Front decorative Panel 35. Lower decorative panel (Condense Trap) 36. Condenser 37. Protective fan grid 38. Return gas temperature "T5" 39. Coil temperature "T4" 40. Bolts M6x60 41. Ambient temperature :T1"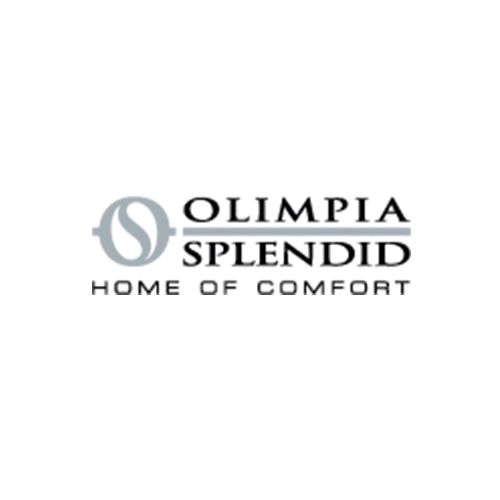 T +39 30 3195100
Olimpia Splendid S.p.a.
Via Industriale, 1, 25060 Cellatica BS, Italy